We look forward to a full set of activities for 2023 and the opportunity to share even more local history with our members and friends! We'll have several Zoom presentations, pontoon tours, hikes, drives and presentations. We will continue to collaborate with community groups to increase your access to fun MWHS historic connections.
MWHS is an affiliated member of the Wisconsin Historical Society and enjoys the support of a large network of historical societies. Additionally,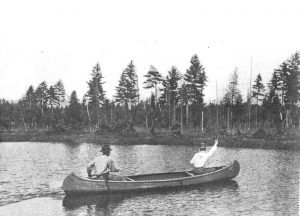 the MWHS has 501(c)(3) status from the IRS and offers members and supporters the same benefits as other nonprofit groups.
Through our past successful fundraising efforts and your continued generosity, we remain committed to ensuring that our digital experts can archive numerous historic documents, using PastPerfect archival software. We are diligently catching up on the 130+-year backlog of community documents. Our interns are also focusing on area resorts, adding stories, images and narratives to our webpage, allowing everyone free access.
We are continuing the tradition of gathering important historic information from our long-time residents. These interviews focus on capturing oral histories from community members to further preserve our heritage. Importantly, our oral histories immediately migrate to our YouTube Channel, allowing you easy and free access.
The North Lakeland Discovery Center and the MWHS continue to offer a series of pontoon tours, hikes and events. The MWHS is also going to continue a recognition program of Manitowish Waters' historians. We celebrate these long-time historians by formally recognizing their contributions and legacy annually as "Leaders of Historic Preservation." This event and a presentation on the history of the Statehouse Youth Conservation Corp camp will take place at the North Lakeland Discovery Center on June 6th.
Community outreach activities continue to be an exciting tradition for the MWHS. Collaborating with the Chamber of Commerce, Manitowish Waters Athletic Club and other organizations, the MWHS is thrilled to have you attend several of our events.
Please go to https://www.mwhistory.org/events/ to discover times and dates for our special events. We look forward to seeing you in 2023!
Warm regards,
Frank DiLeonardi
President