2020 looks to be another exciting year for the Manitowish Waters Historical Society. We are expanding our events and projects to further preserve and share our community's history. The MWHS is an affiliated member of the Wisconsin Historical Society and enjoys the support of a large network of historical societies. Additionally, the MWHS has 501(c))(3) status from the IRS and offers members and supporters the same benefits as other nonprofit groups.
In collaboration with North Lakeland Discovery Center, the MWHS continues to offer a series of pontoon tours,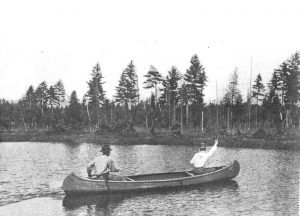 trips and events.  The popularity of these tours has led our two organizations to fund raise for a newer and slightly larger pontoon boat to allow more folks access to the great histories and natural resources throughout our area
The MWHS is also going to continue a recognition program of Manitowish Waters' historians.  For many decades, several Manitowish Waters' residents have chronicled our history and have made enormous contributions, preserving critical resources and stories.  We now celebrate these historians by formally recognizing their contributions and legacy annually as "Leaders of Historic Preservation."  This event and a presentation on the history of the Statehouse Youth Conservation Corp camp will take place at the North Lakeland Discovery Center on May 18th.
Over the past year, the MWHS has employed two people on a part-time basis to archive our documents, using PastPerfect archival software. PastPerfect has an online component that allows community members easy access to historic resources, and it can be linked to our web page.  Importantly, as a result of our newly employed digital archiving approach, the rate of archiving and document preservation has grown exponentially.  The effort of the MWHS to create a digital archive of a 130+-year backlog of community documents is among our highest priorities and will be a long-term challenge.
We are also continuing the tradition of gathering important historic information from our long-time residents, and we have sponsored historic gatherings with select Manitowish Waters' residents. These events focus on capturing oral histories from community members to further preserve our heritage.
Community outreach activities have become an exciting tradition for the MWHS.  Collaborating with the Chamber of Commerce, the MWHS continues the "Historic Mysteries of Manitowish Waters" series, using the popular Chamber After 5 venue on ????st. This year, the presentations will be review Stone, Fawn, Dog, Dead Pike and Circle Lily lakes' mysteries. Our MWHS Fun Night used a team Jeopardy format to allow up to eight people to answer Manitowish Waters' history questions.  Attendees had a great time, and our Fun Night will become an annual tradition.  Many more presentations will be conducted at the Koller Library as well.
Please go to https://www.mwhistory.org/events/ to discover times and dates for our special events. We look forward to seeing you in 2020!